Delightful Customer Journeys with On-Bus Audio in Auckland
See how Auckland Transport improved bus journeys with audio announcements. Learn the design principles and positive impact on users.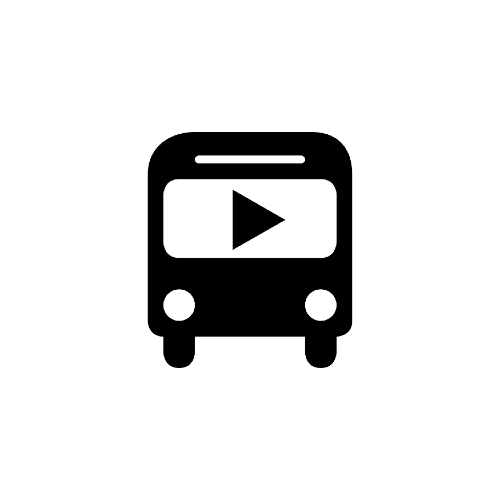 In 2020-2021 I ran a team that implemented on-bus audio announcements at Auckland Transport, the transit authority for Auckland.
Why Audio Messaging?
Audio messaging on buses is a way to make bus journeys not only equitable but delightful. It provides the necessary support for Blind Citizens to navigate, whilst also providing assurance and confirmation for anyone navigating their transport journey that they're on the right path. In the UK in 2023 government legislation has changed, which means that announcements on buses are mandatory by 2026. See more information here. This is exciting news for people with disabilities, but also those wanting easy journeys.
This being said, designing audio announcements on buses is all about execution. If you do it wrong, you could end up with lots of customer complaints and a bad customer experience. Public transport journeys, especially when unfamiliar, can be anxiety-inducing and stressful. One bad experience can substantially change people's public transit experiences (1). Good transport audio has the opportunity to reassure and guide customers throughout their journey in a concise and enjoyable manner.
Design Principles
To design really good audio announcements we made sure to consider the following design principles. These principles were developed starting from international best-practice and tailored through engaging local customers, and blind citizens.
Easy navigation
Accessible
Dual Language - Te Reo Maori & English
Don't irritate - not repetitious
Concise
Delight Customers
Effortless to maintain
Consistent
Process
We applied the "build-measure-learn" process to our development of audio announcements on buses. We ran design sprints at various stages of customer testing to make sure the experience was as delightful as possible for users. Though before we even started, there was a small problem… our bus stop names in Auckland were inconsistent. We had one set of names for physical signage for example:
Physical Signage: Grey Street
Then a different set of names for digital tools, such as AT mobile - Auckland Cities public transport app. For example:
Digital Signage: Opp. 329 Onehunga Mall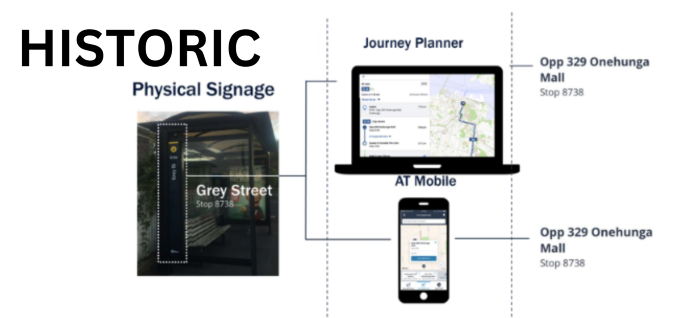 The problem was that there were different names that people would see on AT mobile than they would on the physical bus stop shelters. This was inconsistent and confusing for customers. I was told it wouldn't be possible to change all the bus stop names. But I'm not one to back down… so 6000 stops later the team had updated all of Auckland's bus stop names! Using Transport for London's (TfL) naming guidelines as our best practice and starting point, we developed our naming guidelines. After a few Excel formulas, many hours of review, and a team of eager graduates, we had new bus stop names that were concise, consistent, and memorable for all of Auckland's 6,000 bus stops.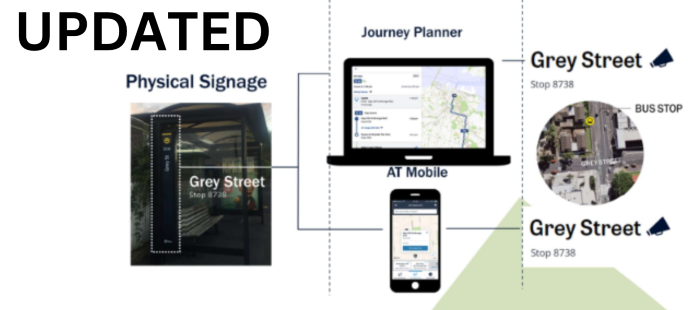 This was silent but important work! The metric for success with the bus stop name changes was, how few people noticed. The measure for failure was that we'd have lots of complaints. Luckily, no one cared or noticed. It's a silent win, and that's why I'm writing about it.
Alternatively, we could have done a really bad job and used the existing, long-winded, and inconsistent names. However, this would have been confusing for customers' journeys, creating anxiety and a dislike of public transport and audio announcements. Especially because in Auckland we were implementing a dual language solution.
For the announcements we decided on core messaging, which includes just the short bus stop name 300m before a bus stop e.g. "Customs Street West" and then for key transport interchanges there is additional messaging. We discovered the pitch must not be too high as it can be difficult for the hearing impaired. Through audio testing, we settled on a volume of 60/70 dB.
Outcomes
With the rollout of the audio system, there have been lots of positive press and social media posts about the on-bus audio announcements for Auckland Transport. From people sharing audio recordings on social media about how great it is, to the overwhelmingly positive responses in the comments, news articles, and press releases about the improvement!

Blind Citizens New Zealand Auckland Advocate Carolyn Peat says the announcements will make it easier for blind and low-vision customers to travel around the city.
"It means that we can relax, without wondering where we are on the journey, and that means we can enjoy the journey."

In my biased opinion as someone who implemented this project, audio announcements on buses in Auckland have been a great step in the right direction of making journeys easier for everyone.
Conclusion
I feel proud of the impact we have made and the tangible results we have achieved with delightful on-bus audio announcements.
If you know of any local authorities that could benefit from updating their audio messaging systems, I would be more than happy to lend my expertise and support.
Let's work together to create inclusive and enjoyable public transport journeys for everyone. Feel free to reach out, and let's make a difference together.